Come Join The Experience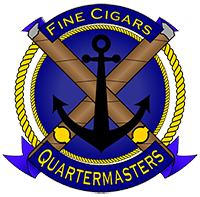 Quartermasters Cigars - brought to you by a team of dedicated tobacconist's with years of experience in the industry -
is a proud retailer of fine cigars, cigar accessories and specialty tobaccos.
We have a little secret.
We believe in doing things a little different. Okay...maybe we're extremely different.
Our flagship store, located in Frederick, MD, features 550 square foot dedicated to retail, a 1780 square foot lounge and an 1100 square foot outside smoking patio.
We believe in giving our customers the power to enjoy themselves in the comfort of a state-of-the-art lounge, outfitted with seating arrangements for over 35 in the lounge and another 20 on our patio. Our five flat screen televisions can each play a different game or show on request, so you never have to miss another strikeout, interception or goal. Care to shoot some pool? Go right ahead on our pool table. Want to play dominoes, cards or just need to get some work done? Our outlets, printer and side tables await you.
Membership
Membership has always had its perks. At Quartermasters Cigars, we take them to a new level.
With perks such as 24/7 access, professionally managed cigar lockers, stick & box discounts, members only box deals and exclusive quarterly events, coupled with a staff of friendly and knowledgeable tobacconists and finished off with an incredible community of fellow cigar smoking members, membership becomes....put quite simply....something more. It becomes an experience all of its own.
Membership brings you into the family. The Quartermasters Family.
Find out More
Shop Hours:
Monday — Thursday 10 am - 9 pm
Friday 10 am - 12 am
Saturday 10 am - 10 pm
Sunday 11 am - 7 pm